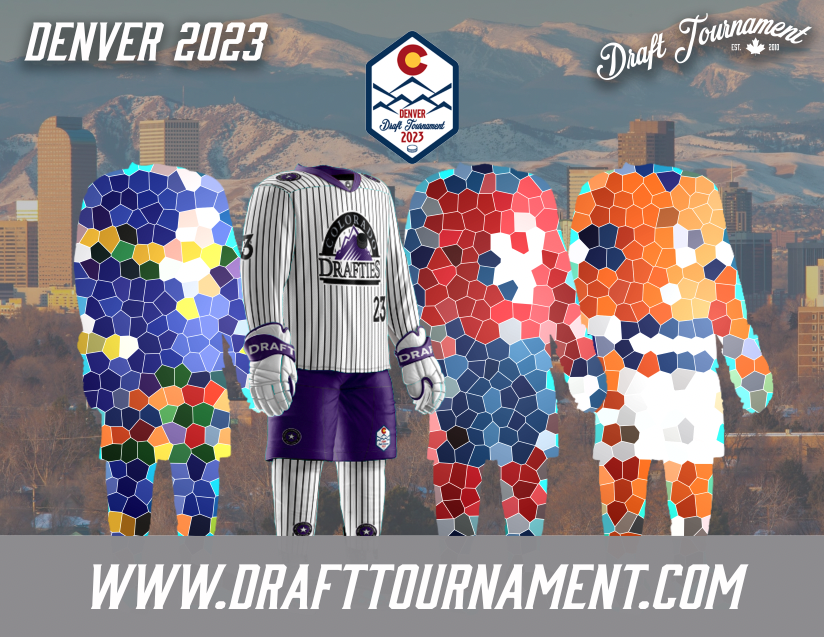 We are thrilled to announce that the upcoming Denver Draft Tournament, scheduled for July 21-23 in Denver, will be honoring the sports-loving spirit of this vibrant city. Denver is renowned for its passion for sports, and we couldn't think of a better way to celebrate than by showcasing the four major sports teams that call this city home. From the thrilling action on the football field with the Denver Draftcos, to the fast-paced basketball games of the Denver Draftgets, the exhilarating hockey matches of the Colorado Draftalanche, and the excitement of the baseball games with the Colorado Drafties, this tournament will pay homage to the rich sporting heritage that Denver embodies. Join us as we unite sports enthusiasts from all around to revel in the competitive spirit and camaraderie that defines the Denver sports scene.
Next team up – Colorado Draftalanche
If you want to join us 2023 for a Draft Tournaments you have to act fast:
Calgary July 7-9th – REGISTER NOW (almost FULL!)
Denver July 21-23rd – REGISTER NOW (Almost FULL!)
Vancouver August 4-6th – REGISTER NOW
Once in a lifetime opportunity to play hockey with us this summer in Malmo Sweden August 11-13th – REGISTER NOW!
Edmonton August 18-20th – REGISTER NOW
Penticton September 1-3rd – REGISTER NOW
Jasper September 29 – Oct 1st – REGISTER NOW
Whitefish October 13-15th – REGISTER NOW
Banff October 27-29th – REGISTER NOW
Phoenix November 3 – 5th – REGISTER NOW