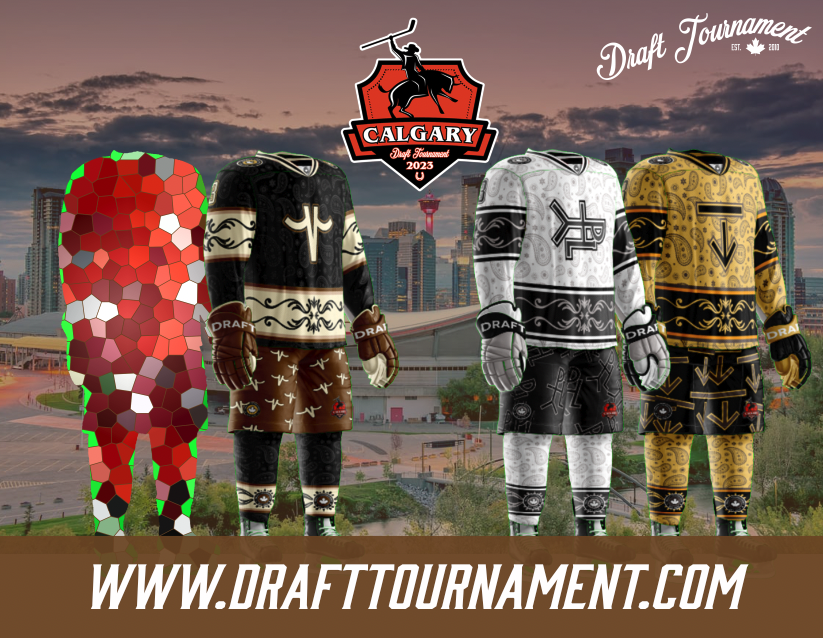 Hold onto your seats, hockey fans, because we've saved the best for last! Introducing the final jersey of the Calgary Draft Tournament: The Five Hole Ranch!
Inspired by the infamous "five-hole" goal, this team is ready to light up the scoreboard with their impeccable aim. They know exactly how to find that perfect gap between the goalie's pads and send the puck straight through.
The players of the Five Hole Ranch are masters of deception and precision. With lightning-fast shots and cunning moves, they're always one step ahead of the competition. They'll keep you on the edge of your seat, wondering how they consistently find the back of the net.
Join us in celebrating the art of scoring as the Five Hole Ranch dazzles us with their incredible skills. Get ready for a thrilling display of hockey excellence that will leave you in awe!
Don't miss out on the action! Come and witness the Five Hole Ranch in all their glory at the Calgary Draft Tournament. Cheer them on as they dominate the ice and make their mark in the tournament's history books.
If you want to join us 2023 for a Draft Tournaments you have to act fast:
Calgary July 7-9th – REGISTER NOW
Denver July 21-23rd – REGISTER NOW
Vancouver August 4-6th – REGISTER NOW
Once in a lifetime opportunity to play hockey with us this summer in Malmo Sweden August 11-13th – REGISTER NOW!
Edmonton August 18-20th – REGISTER NOW
Penticton September 1-3rd – REGISTER NOW
Jasper September 29 – Oct 1st – REGISTER NOW
Whitefish October 13-15th – REGISTER NOW
Banff October 27-29th – REGISTER NOW
Phoenix November 3 – 5th – REGISTER NOW