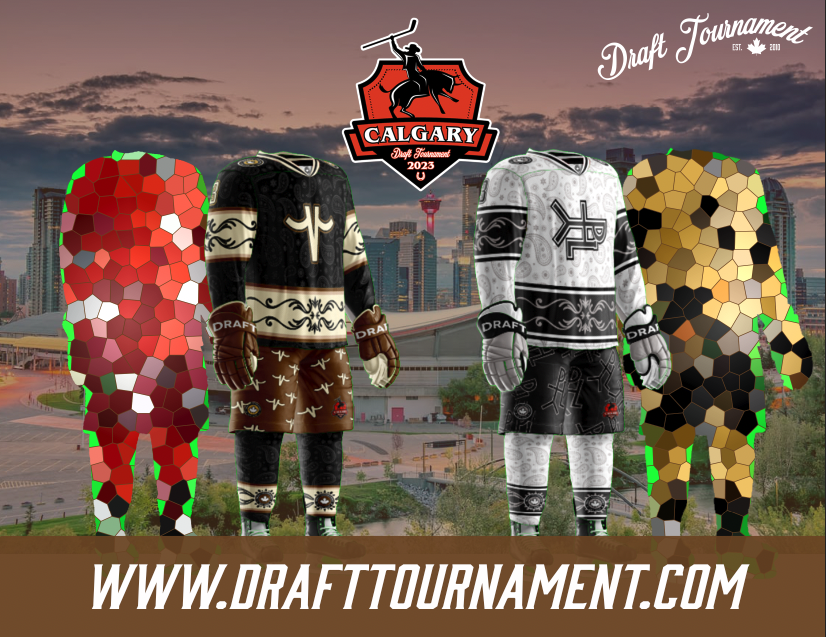 Prepare to witness the ultimate display of accuracy and finesse as we introduce the Bar Down Ranch, the next team in the Draft Tournament lineup. Inspired by the sweet sound of the puck hitting the crossbar and finding the back of the net, this team is all about aiming for perfection.
At the Bar Down Ranch, precision is their middle name. These skilled players have mastered the art of hitting the elusive "bar down" shot, leaving goaltenders in awe and fans jumping out of their seats. Their ability to find the smallest gaps and execute jaw-dropping shots will have you holding your breath in anticipation.
But it's not just about their pinpoint accuracy; the Bar Down Ranch brings a level of finesse and style that will leave you mesmerized. Picture perfectly executed dekes, silky smooth passes, and a seamless flow of teamwork that will make your heart skip a beat.
As they grace the ice, expect a symphony of goals, each one celebrated with a resounding cheer from fans who appreciate the beauty of a perfectly placed shot. The Bar Down Ranch is here to remind us all that hockey is an art form, and they are the maestros.
Join us at the Draft Tournament as we witness the Bar Down Ranch in action. Get ready to be dazzled by their skill, inspired by their precision, and caught up in the euphoria of their perfectly executed plays. It's a hockey experience you won't want to miss!
Stay tuned for more updates as we unveil the remaining teams, each bringing their own unique flair to the tournament. The Draft Tournament is shaping up to be an unforgettable celebration of the sport we all love. Let's raise the bar and cheer on the Bar Down Ranch!
If you want to join us 2023 for a Draft Tournaments you have to act fast:
Calgary July 7-9th – REGISTER NOW
Denver July 21-23rd – REGISTER NOW
Vancouver August 4-6th – REGISTER NOW
Once in a lifetime opportunity to play hockey with us this summer in Malmo Sweden August 11-13th – REGISTER NOW!
Edmonton August 18-20th – REGISTER NOW
Penticton September 1-3rd – REGISTER NOW
Jasper September 29 – Oct 1st – REGISTER NOW
Whitefish October 13-15th – REGISTER NOW
Banff October 27-29th – REGISTER NOW
Phoenix November 3 – 5th – REGISTER NOW