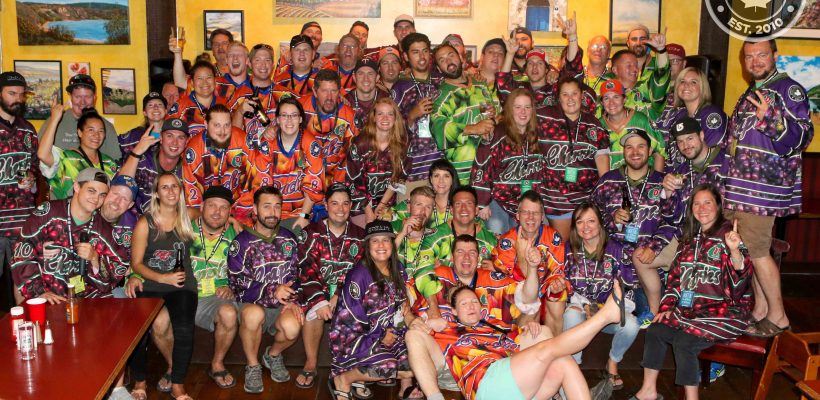 If you have not heard yet, Phoenix will be the 50th Draft Tournament and we are celebrating #DraftTournament50 in many ways!
From Las Vegas to Boston, 8 YEARS in Canmore, overseas in Austria, our first time in California this December, and many, many stops in between, the Draft Family has seen it all. And none of this incredible insanity would be possible without the amazing people that bring their positive attitudes, big personalities, and bottles of Fireball tucked into those hockey bags. Hockey skills are optional, but being a beauty is not!
So to celebrate just a small slice of the craziness that is the #DraftFamily, we are featuring the Top 50 Draft Tournament Players of the past 8 years (based on tournaments attended). These number are based on tournaments up to Columbus (so excluding Salzburg and Jasper). Check out their stats and Official Draft Tournament hockey cards below!
The top 10 are:
10. Dylan Friedt – 14 Tournaments – 120G, 82A, 202P
9. Torben Sluyter – 15 Tournaments – 36G, 32A, 68P
8. Marc 'Burrito' Keller – 15 Tournaments – 57G, 50A, 107P
7. Johnny 'Memphis' Weeks – 15 Tournaments – 6G, 21A, 27P
6. Dave Rathgeber – 15 Tournaments – 23-34-7, 5G, 6A, 11P
5. Candace Keeler- 15 Tournaments – 13G, 31A, 44P
4. Jeff Neustaeter – 17 Tournaments – 112G, 58A, 170P
3. Sarah Calabria – 25 Tournaments – 50-65-12, 11A
1. Jim 'The Ironman' Ramsdell – 34 Tournaments – 19G, 84A, 103P
1. Lonny 'The Legend' Evans – 34 Tournaments – 119G, 132A, 251P