John is a recent Draft Tournament rookie, but he fit in to the group like he had been Drafting for years! Let's find out more about the man with the chops from Memphis.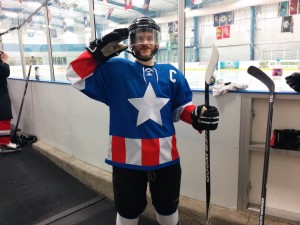 So John, how did you find your love for hockey? 
I think it all started when I was maybe 12 or 13. My dad took my sister and me to watch our local CHL team, the Memphis RiverKings, take on the Macon Whoopee (best team name ever, of course). Little did I know, but that planted the seed. Years later, I started watching NHL games on TV from time to time, and that got me even more interested in the sport. I figured I would try it out! I honestly didn't even consider ice hockey as a viable option — though, we did have an ice rink in the Mall of Memphis which ended up closing a few years later — so I went for roller instead. Picked up some inlines and a stick and… well, it didn't go so well. I mainly had trouble finding anyone interested in playing, so that eventually fell to the side. About 15 years later the Mid-South Ice House opened up in the area. I checked it out with some friends one night and everything just kind of fell into place. I took some lessons shortly thereafter, started going to stick & puck sessions, and within a few months I was playing on an adult league team. Now I'm even teaching kids how to skate and coaching a mites team.
Tell me about your first Draft Tournament experience.
I went to Nashville and it was so freaking awesome. I was a little nervous walking into the draft party Friday night, but once I got inside, grabbed a beer and started talking to other players, I was good to go. The draft got started, and that's when the real fun began. I ended up being drafted to Team Rogers based on my muttonchops (I knew they'd come in handy one day!). Turns out, since we didn't know the skill levels of anyone being drafted, our players (the guys, at least) were drafted based on facial hair superiority. The night went on, the beer kept flowing, it was a good time. Just a few games into the tournament, if you walked into our dressing room and heard the way we were going on with each other, cracking jokes, you'd think we'd all known each other for years. That's how quickly we bonded. Heck, our first time on the ice, we went out there and played like a team that had been together for years. I honestly can't think of a quicker, better meshing of players in all the time I've been playing. And once it was all over… well, that was the only bad part of the weekend. Having to say goodbye to all of my new friends before making the three hour drive back to Memphis sucked. I knew I'd keep in touch with a lot of the people I met, and I knew I'd see some of them again at future Draft Tournaments, but I wanted nothing more than to hang out with them some more, play a few more games with them. But on the bright side, I know I will, and I can't wait for that!
What was the most surprising part of the Draft Tournament for you?
The balance. I've been to my fair share of tournaments over the years, and I've never been in one as balanced as the Draft Tournament. I've taken multiple teams to "novice" tournaments where we got destroyed by (among others) one team that had been playing together for about ten years and another that felt bad about how badly they were beating us, so they played with their sticks off-handed… and continued to smoke us. That's a pretty unique definition of "novice," I'd have to say. But you guys have a great format for evening the teams up and guaranteeing a fun weekend.
Yeah that is what makes the Draft Tournament so unique is how close the competition is! Who is your hockey hero and why?
I'd have to say Jaromir Jagr. As someone who picked up ice hockey well into adulthood, I have so much respect for a guy like him who continues to train hard and play hard despite his age. I think he once said something along the lines of, "I'll stop playing hockey when I die." That's how I see myself. Hockey is the one sport that I genuinely love, and I don't plan on letting "age" get in my way of enjoying it for the rest of my life.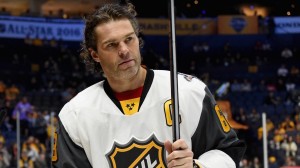 That's great to hear! Hockey really is the greatest sport ever. What's your favourite hockey team and memory watching them?
Nashville Predators, without a doubt. My favorite memory watching them is very recent. Back in March, just a few weeks before the Nashville Draft Tournament, I drove up to Nashville with some coworkers to see the Preds take on the Kings. That was the best I'd seen them play in person. Witnessing that, and feeling the energy and excitement from the fans coursing through Bridgestone Arena… what a rush!
Make a prediction about who will be in the Stanley Cup final and who will win it this year?
While I'd love nothing more than to see the Preds go all the way, I'm thinking Sharks vs. Penguins with the Pens hoisting the Cup.
Looking like a good prediction so far! If you could choose a movie to represent your Draft Tournament experience what would it be?
Oh, I'm pretty bad at these analogies. I guess I don't watch enough movies to have a good base to pull from, but on the spot, I'd go with "The Sandlot." Almost everyone at the Draft Party was "the new kid" who just moved to town, but after we joined our respective teams, we made friends for life. And of course, between each of our games, we took part in a shenanigan or two. I mean, who could resist? Downtown Nashville is perfect for it! (Mmm… Wendy Peffercorn…)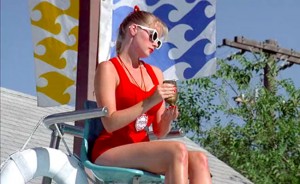 Yes please… What would you say to someone who is sitting on the fence right now and is thinking of doing a Draft Tournament?
Do it! You know you want to! Seriously, you will not regret it. The registration fee is well worth it for what is likely to be the most memorable and fun weekend of hockey you've ever experienced.
Imagine this: you wake tomorrow and you are in charge of the Draft Tournament. What would be your first decision (other than inviting Wendy Peffercorn), and where would you plan to have the next one?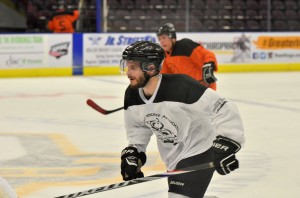 You know, I think my first decision would have to be just that: where to have the next one. With the dedicated and growing hockey community we have around here, I'd have to say I'd bring it to Memphis. Ever since I came back from the Nashville Draft, my friends have been asking how it was, and I can't help but rave about what a great time I had. It's drawing a bit more attention from the local crowd now that I can personally vouch for it, so I think we could pull it off. Besides, we're the home of Elvis. And Nick (Fleehart from Beer League Talk) being the Elvis fan that he is, already has jersey ideas running through his head. Just imagine… teams patterned around all of those glorious jumpsuits! It would definitely be something to behold.
Well I know Nick loves dressing up in sequins and rhinestones so that would definitely be something he'd love! 😉 You'll have to tell all your friends to come to Nashville next year though. Or maybe Montreal in July? That's kind of like Canada's Nashville! Thanks again John.