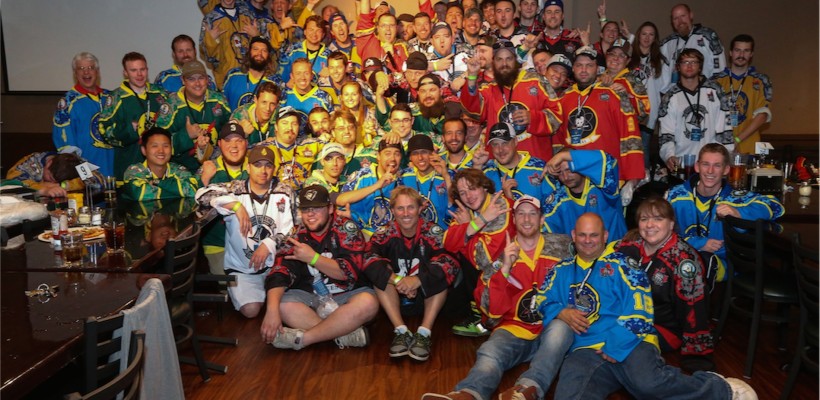 Welcome to our hockey family
Let me start with a little introduction.  I am Jim and I have a hockey problem.  I experienced my first Draft Tournament last year in Bremerton (the location of the Seattle event).  I found out about the tournament via a Facebook post from someone else with a hockey problem.  Since I have family in the area I figured worst case was I get in a little hockey and some family time.
I met up at the draft party with a few friends that were also attending.  My friends have all seen me play so they avoided drafting me.  That ended up being a good thing.  I met a bunch of fun people and ended up winning the A championship.
I had so much fun I went by myself to Vancouver next.The thing is that when I got to the draft party on Friday night, all of the NCHL guys that were in Seattle remembered me and so did the other players from Bremerton.  It turns out I wasn't by myself at all.  My team lost all the games that weekend, but I still had a blast.
I told all my friends at home how much fun I had at the tournaments, so when the Jasper tournament was available I found a draft tournament virgin to make the 12 hour drive with me .  That was three in a row and I had the longest current streak of consecutive tournaments  and thus the coveted title of Ironman was mine.
This obsession continues with the streak currently at 7  ( just played in Canmore) with registration for numbers 8 and 9 completed.   At the Canmore tournament I also completed the Draft Tournament version of a Grand Slam.
I am very fortunate to be able to pull off these feats, but the best part has been developing friendships with a lot of great people.  Some of them even draft me after having seen me play.  If you haven't attended the Draft Tournament just do it.  I will probably be there.
Until next time keep your head up and your stick on the ice.
— Ironman