I want to start with a shout out to Sarah Calabria for completing the draft slam at Calgary. She is first goalie and second person (goalies really are people) to attend a complete cycle of Draft Tournaments without missing any of them.  This is pretty impressive since she has attended all of them as a goalie which takes a bit more than just signing up to play.  I guess this makes her the Iron Maiden.  She will be in Vancouver where she started her Draft Tournament journey.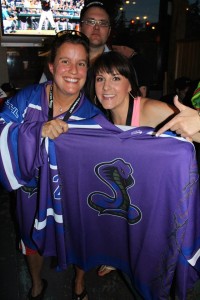 Speaking of Vancouver the 2015 installment is rapidly approaching.  So get registered pronto if you want attend.  Skating at the Olympic Oval in Richmond is pretty cool.   The theme is local Vancouver municipalities.  Check out the released jerseys.
Until next time,  Keep your head up and your stick on the ice.
– The Ironman