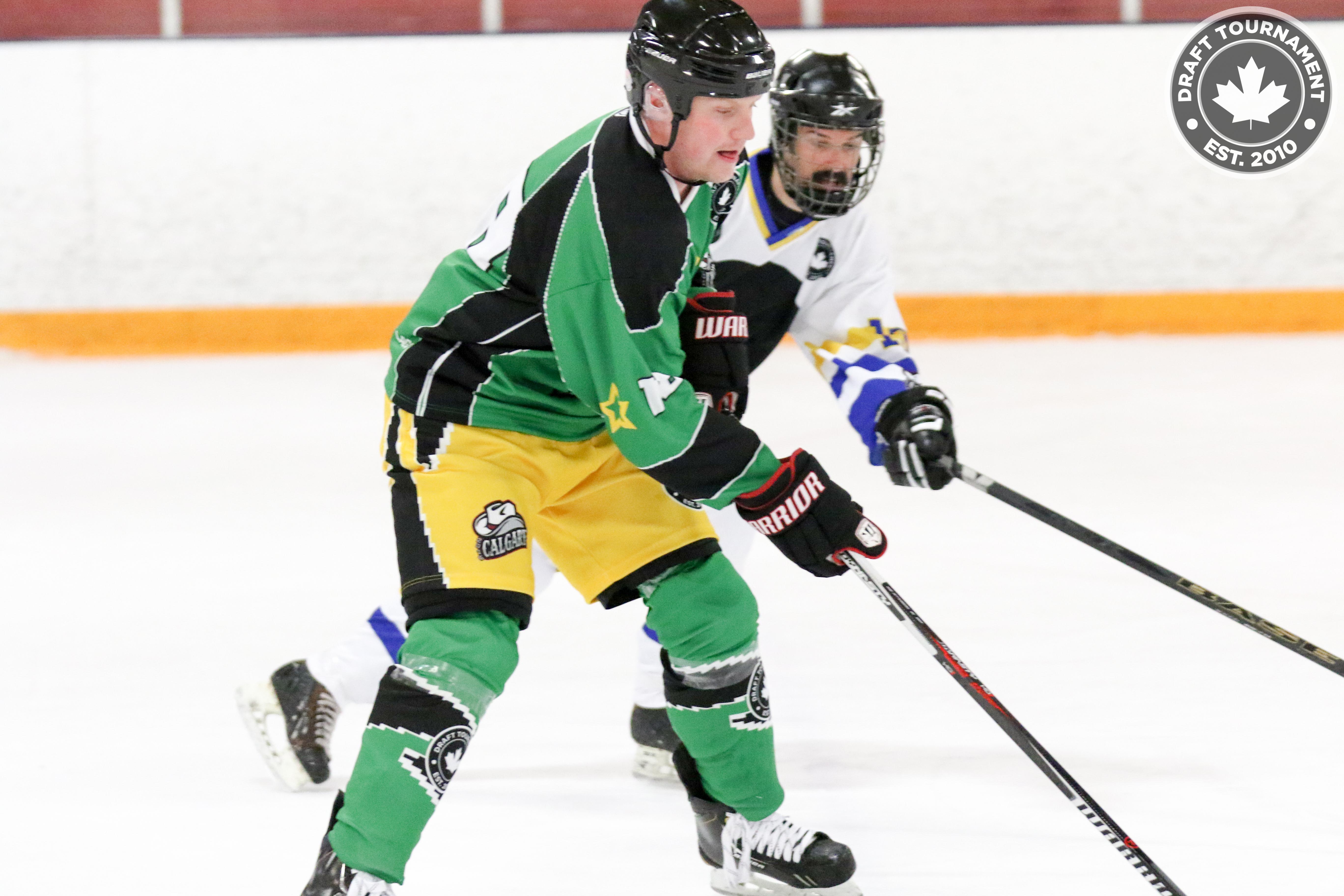 The Draft Tournament Player Profile is back! Each week, Draft Tournament will be interviewing a member of the Draft Family to find out about their experiences in the Tournaments. This week is Ashley Wiens who has been a member of the Draft Family for a over year now.
DH: So Ashley, how did you find your love for hockey?
AW: I've loved the game as long as I can remember. My dad had me catch the bug before I could walk and hockey has been a big passion in my life ever since.
DH: Tell me about your first Draft Tournament experience.
AW: My first draft experience was Calgary 2015. I had heard about it through a friend that had gone to a few and thought I'd give it a try. What happened was extraordinary. I'm a shy guy by nature and at first didn't take to talking to too many people. I quickly made contact with a few people who I'm proud to call friends today.
The themed jerseys then come in. The first one was a rodeo style. The tournament organizers do a wonderful job of getting the jerseys looking awesome and everything put well together. Next thing I know, I'm chugging (sorta) beer to get first pick in the next draft round. I pulled on my jersey and I instantly felt at home with my team and we partied until the wee hours knowing full well we had a game at 8 the next morning.
Tired and groggy, I got into the dressing room the next morning and the adventure continued. Everyone got along quickly and it was easy to see everyone was so excited to be there despite the thumping headaches. The hockey was awesome, no one got silly and everyone just had a blast through the whole weekend.
What's more is, after the tournament, I found myself in lasting friendships and thirsting for more. I've now been to 5 tourneys and I can't get enough.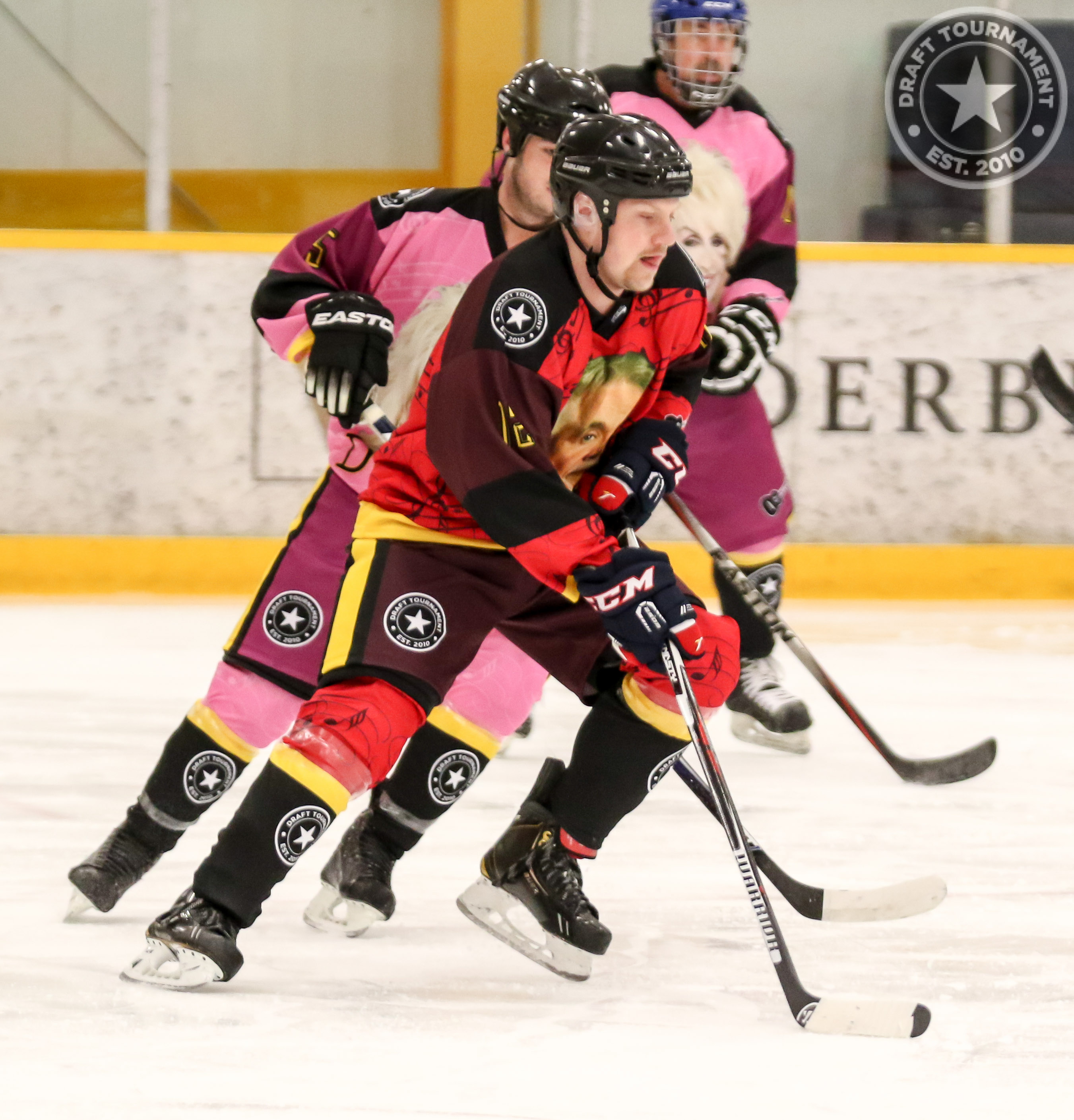 DH: Nothing better than those 8am hungover (or still drunk) games 😉 What was the most surprising part of the Draft Tournament for you?
AW: The most surprising thing to me was how everyone was about having fun. Hockey is a sport with bad physics and competitive people. Somehow the draft was able to find a balance in competition and fun. You don't see unnecessary roughness or poor sportsmanship, you genuinely have a ton of fun and you improve your skills on the ice whether you've played junior or are just learning how to skate.
DH: Who is your hockey hero and why?
AW: Many in my age range say Bobby Orr or Mario Lemieux or Gretzky. Early in my life, it was Steve Yzerman. His vision and skill were second to none. As I got older and rounded out into a more physical player, it was Cam Neely. Extremely strong, powerful man who could score goals and played the game with honour.
DH: What's your favourite hockey team and memory watching them?
AW: Watching Yzerman blast a slapshot past John Casey in double OT in game 7. That was unbelievable.
DH: Yeah, that is a good one. The camera angle behind the post is one of the coolest shots in hockey history. If you could choose a movie to represent your Draft Tournament experience what would it be?
AW: I can't pick one movie to represent the whole experience. The draft party is like Beerfest. The dressing room, comradarie, and hockey experience is like Goon without the violence. And you develop friendships as brooding and deep as Dumb and Dumber.
DH: What would you say to someone who is sitting on the fence right now and is thinking of doing a Draft Tournament?
Swallow your fear and DO IT!!! You will not regret it. Your skill at the game doesn't matter. Those that have played the game at high levels get more kicks out of seeing someone's skills improve than scoring goals. The hockey is secondary to the fun and love you feel all weekend. It's like a 3 day college party with hockey thrown in.
DH: Imagine this – you wake tomorrow and you are in charge of the Draft Tournament. What would be your first decision, and where would you plan to have the next one?
AW: Oh man that's a hard one. There are so many great places and experiences that the draft tourney exists. I would love to see one in New York and am stoked for Boston! Original 6 cities. TONS of history both in hockey and in general.
DH: Yeah, Boston coming up! Hopefully you signed up before we sold out! If not, we might one day see a New York Draft Tournament, who knows. 😉
Thank you for sitting in with us Ashley! Hope to see you again at a tournament soon! Maybe Phoenix?