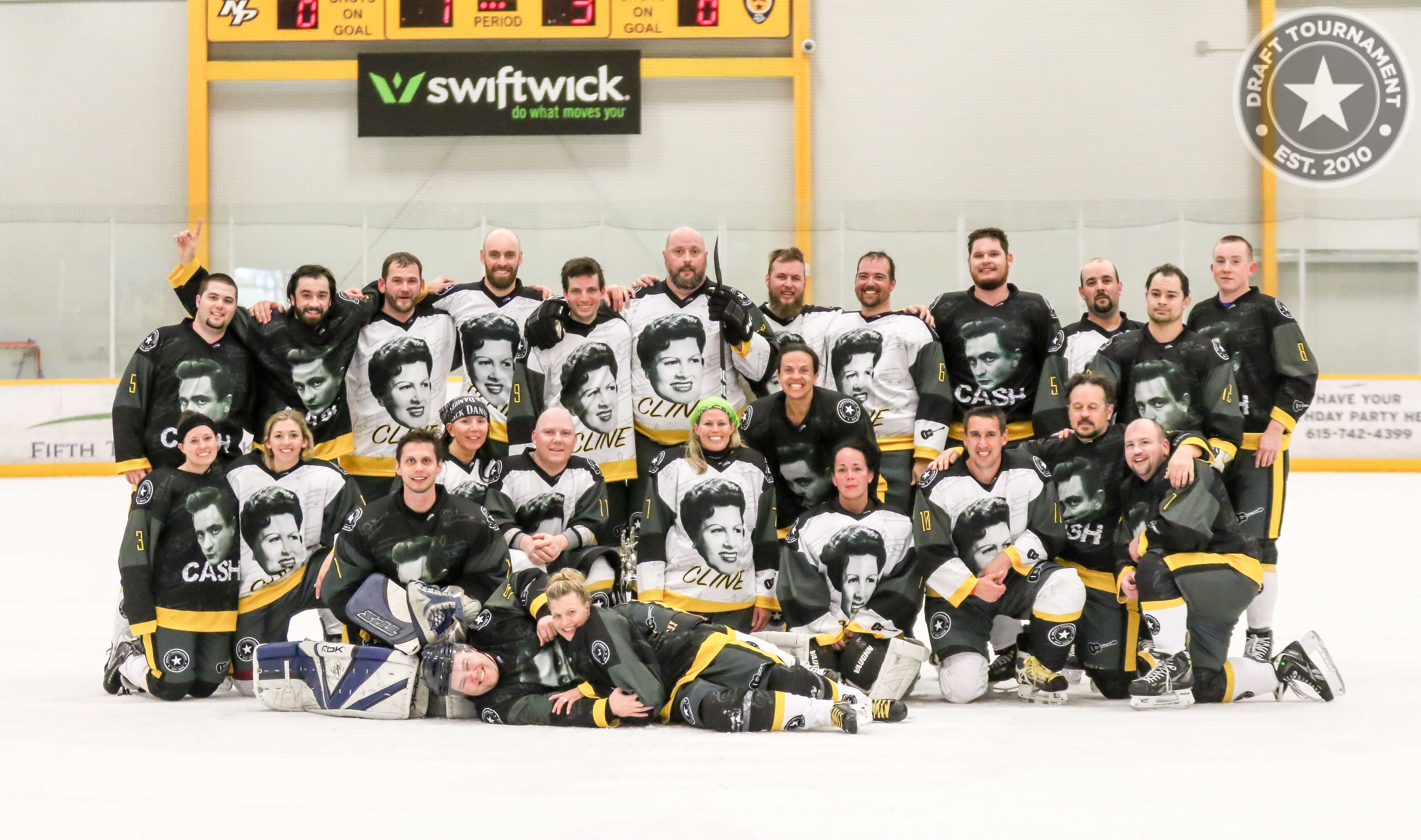 "I suck at hockey, just started playing 5 month ago, but if you draft me I will make it worth your while"
I remember clearly when I first stepped on the ice for the very first time, it was terrifying and it certainly was not during a hockey game. In fact it was in a highly controlled environment of a public skating with the ice marshal directing traffic. The skate boots were pretty soft and my feet hurt like a son of a bitch after 5 minutes of being out there. Not to mention I had no idea how to stop. The story I am about to tell you next will absolutely blow your mind. It sure blew mine, even though I had a very small part to play in it.
Three weekends ago we debuted our very first draft tournament in Nashville, TN. The theme, fittingly, was country stars. After acclimatizing to the new city and getting our bearings on Thursday with a tour of Broadway and a few pints, we were ready to get the show on the road. On Friday, I showed up as planned at the designated Draft venue on the strip at 8PM, reacquainted with the Ironman and said a few hellos to a mostly fresh, new group of draft brothers and sisters.
Next thing I notice is this green goalie stick floating around the room, with four sockets for shot glasses. This is going to be fun, must be one of the goalies with the bright idea! I ask Nick, who brought the stick? He says to me this guy over there and points at RJ. I glance over and see this mountain of a man. RJ must be 6'5" at least. Eventually I make my way over and introduce myself and we talk a little bit. He is super excited to be at the draft, and this is his first tournament so he is a bit nervous. At this point I know nothing about how much of a journey this is for RJ and what it all means to him.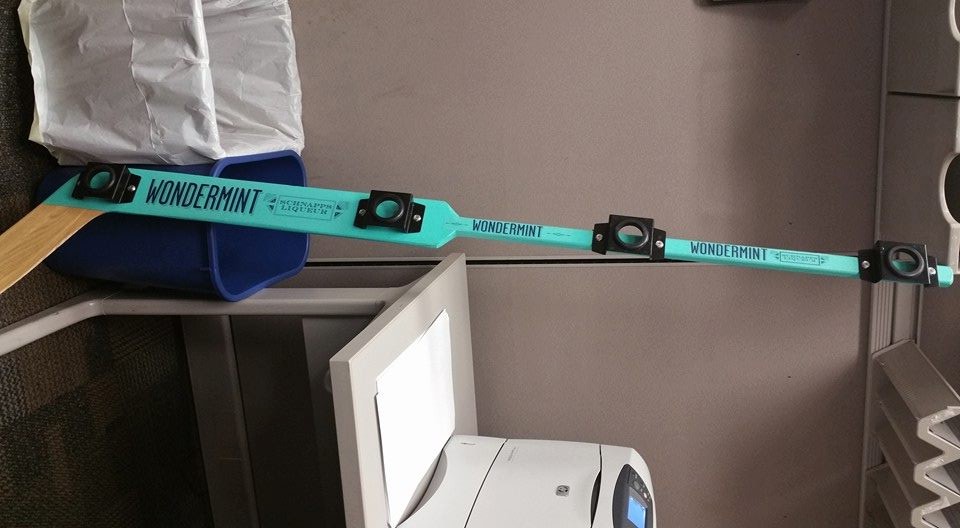 The night progresses and RJ is up for his drafting round. He gets up on the stage and he is not a shy guy, so the first thing he says is: "I suck at hockey, just started playing 5 month ago, but if you draft me, I will make it worth your while". The goalies deliberate, finally he gets picked by Patsy Cline, and throws the jersey on. It barely fits him but he is unbelievably happy. The rest of the round now has a jersey over their head and a team to play for, so it is their turn to crush beers to figure out which team drafts first in the next round. RJ kills it… Apparently he knows a thing or two about beer chugging.
It turns out RJ is from New Orleans. He heard about the draft tournament on the Beer League Talk podcast and had this "crazy" plan that he would lose weight and start playing hockey. It's not the easiest path chosen, and in his own words, there are a hundred sports he probably should have taken up because of where he lives. The nearest rink is roughly an hour and a half away and there is very little support in terms of what they offer for hockey. Throw in life, obligations, and a lack of any type of shinny, and getting on the ice can be difficult. Yet RJ loves the sport and has never skated in his life until about 5 month ago. In the process he lost 70lbs and was able to get the hockey gear to fit a bit better just in time for Nashville!
Here is what he had to say a few weeks before coming to Nashville in a reddit thread.
"So, it's now a few weeks away, and I haven't progressed in my preparation as much as I'd hoped, but I'm not pulling out. I'm not a quitter, and after all this time and effort, I feel it would be an insult for me to not go. Besides, I've paid. The check cleared. I'm on the hook. I feel I have to do this if for nothing else, to show that the first leg of my journey is complete, and I didn't fail. I didn't give up. But boy am I going to suck. Epic levels of suck, and honestly, I'm a little terrified in the process."
"This is the beauty of the draft tournament and the people it attracts, it does not matter what your skill level or lack thereof is, you still get to play just as much as anyone else."
Ok, back to Nashville. As it always happens, the teams were set, and somehow I was now with Dolly wearing a crazy pink jersey and getting to know my new teammates. There was a brother duo, Arkansas and Alaska (don't ask me why, it just is ;)), sprinkles of New York, a dash of Washington and Nashville with a hint of Texas, topped off with Canada. Bad news: we did not have our number 12 (that was the best round) and of course we got a penalty for spilling beer in the 11th round, so we were picking last. We got Ben by default (who turned out to be a pretty good hockey player when he showed up on Saturday).
Meanwhile RJ was getting to know his new team, the Clines, and feeding shots out of the shot stick to any unsuspecting birthday girls. Somehow we managed to get through all the Draft rounds and it was time for the race to figure out who is playing the 8AM Special. We did not fare well there, and it was the Partons vs the Gambler first on deck Saturday morning. And so it was time to sing the last tune and get the hell out of dodge to get a good night sleep, Clines would be the second game of a back to back tomorrow.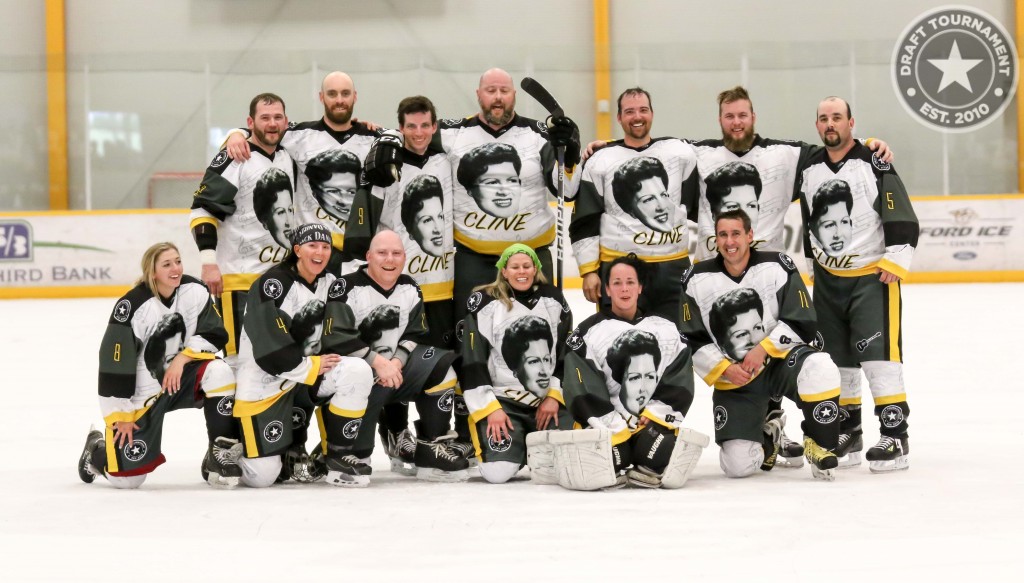 The first game of the tournament really did not go as planned the next morning, we dropped a 7-2 decision to the Gambler and we still did not have number 12. Next on tap was Patsy. It was a close game, but we were down for most of it. RJ was out there doing his best and getting a regular shift no matter what the score was at the time. This is the beauty of the Draft Tournament and the people it attracts: It does not matter what your skill level or lack thereof is, you still get to play just as much as anyone else.
It seemed like with every shift RJ got out there, he gained in confidence, was moving a little more gingerly and trying to be in the play. I remember thinking I don't want to run into this guy, because A, he is not that stable on his skates and B, if he falls down on me, he would absolutely crush me! So what happens next? I jump in the play, the puck is turned over and I start turning and WHAM I run into RJ! I guess he was on my right and I did not see him. I bounce off of him like a tennis ball, but we both went down… Luckily he didn't end up on top of me! I got up, helped him get up as well and on we went. They ended up beating us 6-4. In the handshake I told RJ to keep up the good work and not to quit doing what he is doing even though it seems hard now.
The Clines went on to the A final, not a bad way to go in RJ's first ever Draft Tournament. They were up against Johnny Cash. Everyone was in the stands watching what would happen and who would win. RJ was getting his regular shift, it was a tight game. Then out of nowhere one of the guys on Cash is racing out of the zone with his head down, he gets to the blue line and guess who is there? Yep, RJ, just minding his own business, trying to knock the puck off the guy's stick. He is standing, the guy is flying at Mach 1, runs into RJ's stick, it is a yard sale, they are both on the ice. The ref blows the whistle, and RJ's got his first ever penalty for tripping. Everyone – and I mean everyone – in the stands boos the ref. Come on, RJ can barely move out there and the guy had his head down, tripped over the stick, total accident! Nevertheless, you can't ever argue with the refs can you.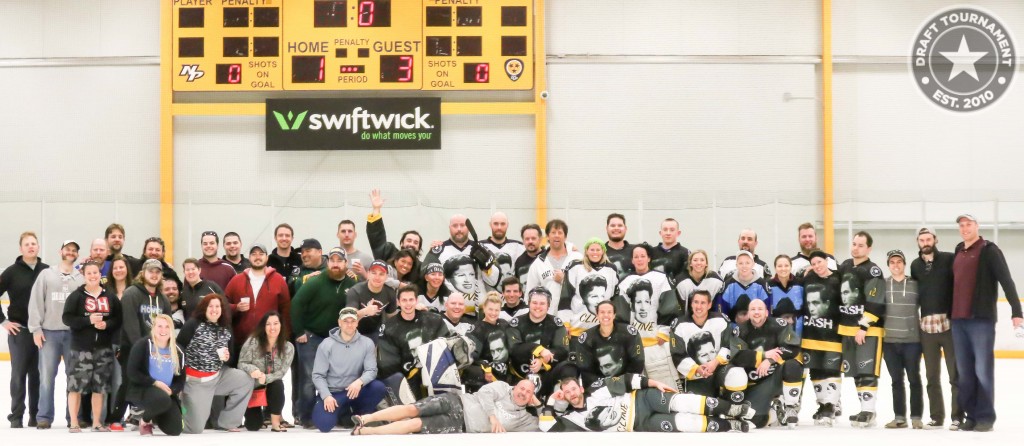 The game is done, Cash wins, team pictures, trophies, and RJ has a big grin on his face. For him it was all worth it. He survived his first ever Tournament, made new friends for life and got to finally play hockey! We all get on the ice, take a big group picture and another great weekend is in the books. After the game we still ended up on the patio with everyone who stuck around drinking, talking, plotting our next adventures with the Family.
My hat's off to you RJ, you've got balls, big ones. Not only you decided to pick up hockey at 41, you had the gumption to come play with us at a Draft Tournament, knowing almost no one and having no idea how it would turn out. I don't think I would have went to the Draft Tournament when I was at your skill level back in the day.
See you soon!
Roms.
P.S.