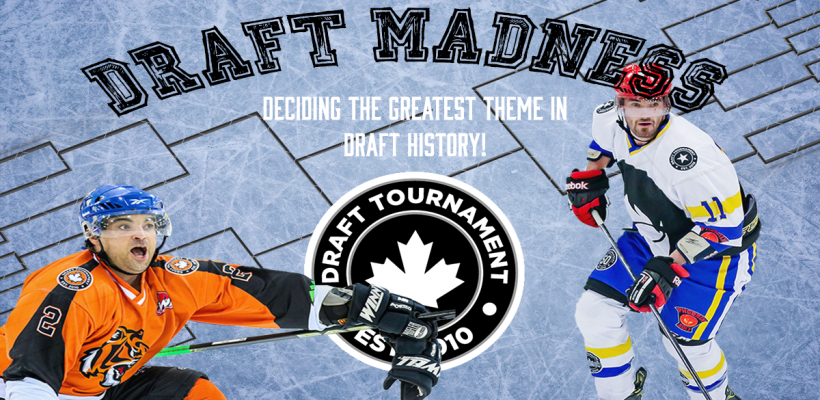 2020 has obviously been a rough ride so far, but we are trying to remain optimistic as sports slowly start to return, both at our local rinks and on TV. After everything we have been through, we wanted something to bring everyone together and give us something to get the Draft Family going strong again!
So we present to you, Draft Madness – the journey to finding the greatest theme in Draft history!
Over the last 10 years we have had 85 different Draft Tournaments all over the world. We started out in the quiet little town of Canmore, Alberta, and grew to Los Angeles, Chicago, Toronto, Nashville, and even Japan (plus a few other places as well). The Draft Family has grown to over 2600 players, and counting, and it's those players that make the Draft Tournaments what they are!
With these 85 tournaments, we have had to create 85 themes, from holiday sweaters to grunge bands, Andy Warhol paintings to casino games. There isn't much that we haven't covered. But we've always wanted to know what your favourite theme was, and so we are giving YOU the power to decide!
Starting with 64 themes, we will matchup one by one, usually lasting a day, in a NCAA March Madness style bracket. Votes will be decided by polls on our Instagram and Facebook pages (which you should follow if you haven't already 😉 ), as well as by comments in the comment section of each. The 64 themes are split into geographical regions: Pacific, Mountain, Central and East.
Every day that you vote you make also gets you one entry for a free Draft Tournament in 2020 or 2021 of your choosing! So make sure to vote every day!
The third matchup is in the Central region, with the Nashville 2019 theme, Whiskey, versus the Las Vegas 2017 theme, Casino Games!
Nashville 2019 – Whiskey
Las Vegas 2017 – Casino Games
Head on over to our social media pages to cast your vote and help us decide the best Draft theme of all time!