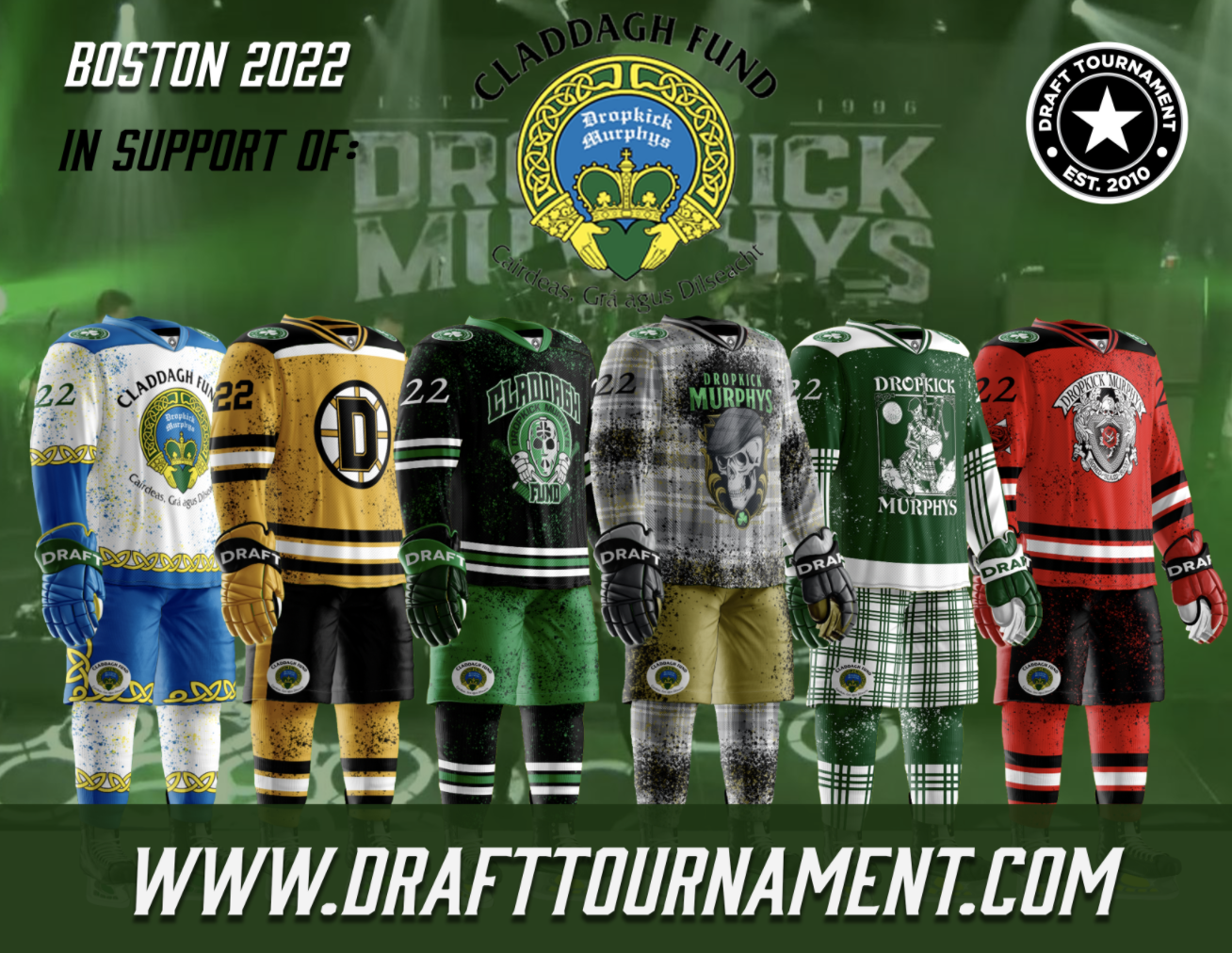 Nothing says Boston like shipping up for St. Paddy's Day weekend, drinking all the green beer you can find, and playing in the Boston Draft Tournament at the Warrior Ice Arena, before heading to a Dropkick Murphy's concert right across the street on Sunday night. Sounds pretty Bostonian to us!
And so, what better way to celebrate Boston than to work with the Boston legends themselves. Ken Casey and the rest of the boys from the State of Massachusetts love hockey, and were right on board when we asked them if they wanted to collaborate on some kickass Draft Tournament uniforms for this year's Boston Draft Tournament.
And best of all, we are be auctioning off a couple sets of jerseys, AUTOGRAPHED BY THE BAND, with all proceeds going to the band's charity: the Claddagh Fund.
The Claddagh Fund is the charitable foundation of the Dropkick Murphys, founded in 2009 by band frontman, Ken Casey.  The Claddagh Fund honors the three attributes of the Claddagh Ring: Friendship, Love & Loyalty.
There will be two sizes for each jersey, you can bid on both adult and kids sizes of the jerseys. The Adults are the XL size that we make all player jerseys in at the tournament. Please note that this is only for the jersey, not the entire uniform.
Below are all the jerseys, click the link to see the current highest bid, and to submit your own.
Bidding will start at $100 USD, and the minimum increment is $20.
Thank you, and happy bidding!
Jerseys
Black and Gold