If you have been to a Draft Tournament before, then you know it is the World's Most Unique Hockey Experience. And if you haven't been before, then you may be skeptical about how amazing these weekends really are.
But the best way to hear about how awesome they are, is to hear from your friends that have been before, first hand. The party, the hockey, the teams that have a place for everyone no matter how much or little hockey experience you have, and a family that goes way beyond a short weekend get together.
This is why we created the Draft Tournament Referral Program. A way for YOU to help grow the #DraftFamily, get your friends to experience the joys that you love so much, and win rewards in the process!
How does it work?
It's pretty simple:
Tell your friend that has never been to a Draft Tournament before to register (and you can give them the discount code REFERME to save them $50)
They say that you referred them on the registration form, and YOU get credit for that referral*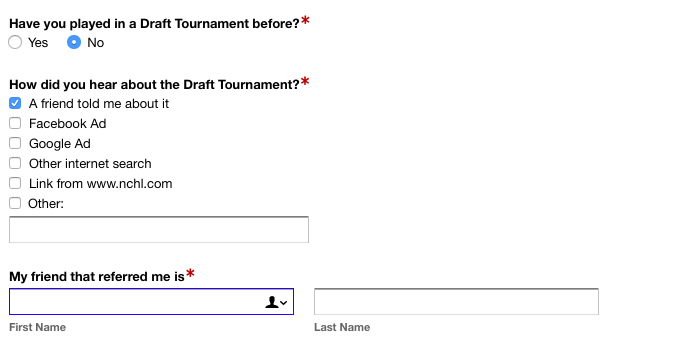 It's that easy! You don't even have to be going to the tournament that they signed up for, they just need to write your name on the form. Your friend will also save $50 off the tournament if they use the discount code REFERME, so make sure to tell them this (code cannot be combined with any other discount).
As you refer more people, you move up the levels, and get more Draft Tournament rewards!
*There is only one referral per registration, and it must be for someone that has never played in a Draft Tournament before. If someone signs up and does not write your name on the form, there is no going back and doing it later. The referral does not count until the player actually pays and plays in the tournament.
Rewards
Refer one person – get a free drink, refer two to get a shirt… 20 to get a FREE Tournament! You know how amazing a Draft Tournament is, now go tell your teammates and friends! (The rewards are cumulative, so if you refer 5 people you get a drink, a shirt AND a hat)
We will also be tracking the referrals on this page and showing who has the most referrals. Whoever gets the most by the end of the year will get to design their own Draft Theme with KP! If that's not cool, I don't know what is!
So there you have it! Check back on this page to see who the top referrers are, and please let us know if you have any questions. Happy referring!
Final Rankings For 2018
| | |
| --- | --- |
| Jess Schairer | 6 |
| Craig Almquist | 5 |
| Sam Wisner | 5 |
| Adam Wilson | 4 |
| Aimee Konet | 4 |